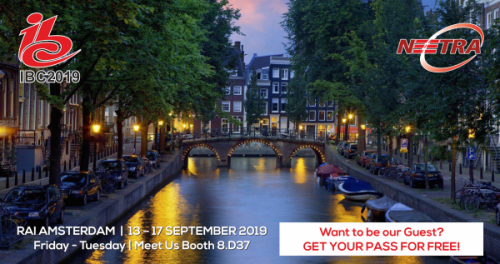 We are happy to offer you a personal free invitation to join us at IBC2019. Visit our boot 8.D37 and find more about NEETRA!
IBC2019 will take place from the 13th to the 17th of September at RAI Amsterdam. You can accept this free invitation by clicking here and typing our customer ID code 9673.
IBC2019 keeps transforming to reflect a field in constant evolution, offering an unrivaled world full of opportunities and networking events to keep you and your company ahead of your time.
Our strategic partner TELSAT.
We are enthusiastic to promote our solutions, share ideas of sustainable progress and enrich ourselves with a further valuable experience .
Come and visit us at BOOTH 8.D37 at RAI Amsterdam on 13-17 September!
Registrati per assicurarti il tuo free pass per l'evento usando il nostro CUSTOMER CODE
9673 e visitaci allo stand n. 8.D37